Meet Our Clergy
---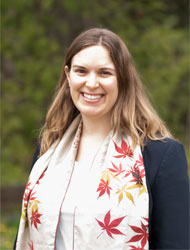 Rabbi Beth Kalisch
Amid all the things that keep us so busy every day, how do we make space for what really matters most in life? Judaism is a millennia-old conversation about this question. My role as your rabbi is to challenge you and inspire you to grapple with it – and to help you find your own way into the ancient wisdom.
Rabbi Beth Kalisch has served Beth David since 2013, when she became one of the first female senior rabbis in the area. Rabbi Kalisch came to Beth David from New York City, where she served as the Associate Rabbi at the Stephen Wise Free Synagogue, and as an Adjunct Rabbi at Central Synagogue.
She was ordained by the Hebrew Union College – Jewish Institute of Religion, where she wrote her rabbinic thesis, a study of rabbinic writings on conversion and interfaith marriage, with Rabbi David Ellenson, served small congregations from Wyoming to Mississippi to Uniontown, PA, and served as a Chaplain Intern at Memorial Sloan-Kettering Cancer Center. She earned her B.A. with distinction in Religious Studies from Yale University, where she also performed with Yale's Jewish a cappella group.
A passionate social justice activist, she has marched with the NAACP in Alabama, volunteered with the American Jewish World Service in El Salvador and with new Ethiopian immigrants in Israel, worked as a legislative assistant at the Religious Action Center of Reform Judaism, and was honored to break a glass as the closing speaker for Philadelphia's rally celebrating marriage equality in Pennsylvania.
She is a current fellow with CLI, the Clergy Leadership Incubator, and was previously a CLAL Rabbis Without Borders fellow and a CLAL LEAP fellow at the Katz Center for Advanced Jewish Studies at the University of Pennsylvania. She serves on the editorial board of the Reform Jewish Quarterly, and her original liturgy is published in the the Reform Movement's Rabbi's Manual and in Beyond Breaking the Glass: A Spiritual Guide to Your Jewish Wedding.
An avid traveler, she loves exploring new continents, neighborhoods, foods, and hiking trails. She and her husband, Larry Levine, an environmental lawyer, live with their two daughters in Center City Philadelphia.
CANTOR LAUREN GOODLEV
I live my life inspired by the words of our morning prayer, "Modeh Ani," in which we express our gratitude to God for the chance to greet a new day and reiterate God's faith in us to make the most of this opportunity. As your cantor, I hope to help you find your voice – both in music and meaning – to connect with one another and with Jewish tradition.
Cantor Lauren Goodlev is thrilled and honored to serve the Beth David community since 2016. She grew up nearby in Voorhees, NJ and graduated Summa Cum Laude, Phi Beta Kappa, with a Bachelors of Arts, in Psychology, Music, and Italian Studies, from the University of Pennsylvania. She also completed her Masters of Music in Vocal Performance from the University of Miami and performed in operas in Europe and New York City.
Cantor Goodlev was ordained from the Debbie Friedman School of Sacred Music at the Hebrew Union College–Jewish Institute of Religion in 2016 where she was both a Wexner Graduate Fellow and a Tisch-Star Fellow. Her thesis and recital focused on "The Many Voices of the Cantor: Biblical and Contemporary Support for the Emerging Roles of the Modern Cantor." As a student at the DFSSM, she was Co-Coordinator of the HUC-JIR Soup Kitchen and served as the Cantorial Intern at Temple Rodef Shalom in Falls Church, VA, Temple Beth Israel in York, PA, North Country Reform Temple in Glen Cove, NY, and Central Synagogue in New York, NY.
Here at Beth David, Cantor Goodlev has the privilege of engaging in many aspects of congregational life. She provides guidance and care during various lifecycle events, teaches learners of all ages, and enhances our music through her warmth and creativity. A pursuer of justice, she is a member of T'ruah and one the ACC representatives to the Religious Action Center's Commission on Social Action. Cantor Goodlev is also on faculty of Camp Harlam, her summer childhood home for many years to which she credits her initial love of Jewish community.
Cantor Goodlev, her husband Eric, and their sons Sammy, Eli, and Asher are all avid Eagles fans, happily residing here in Lower Merion.
Zecher Tzaddik Livracha: The Memory of a Righteous Person is a Blessing.
RABBI EMERITUS, HENRY COHEN, ZT"L
Rabbi Cohen served Beth David from 1964, where he remained until becoming rabbi emeritus in 1993. Sadly, we lost him in 2021.
Rabbi Cohen was born in Houston, Texas, into a family of Reform rabbis. After graduating from the University of Texas, he was ordained at the Hebrew Union College in 1953. He was an army chaplain and served as assistant rabbi in Great Neck, NY, where he met his wife, Edna. They moved to Champaign-Urbana where Henry served a "town and gown" congregation and received a Masters Degree in the Philosophy of Education.
He initiated a bi-cultural Black-Jewish nursery school and was chairman of the Jewish Coalition for Peace. In 1974, he was part of a group of interfaith clergy who visited Lebanon, Jordan and Israel. In 1986 he and his wife visited the Soviet Union where they met with refuseniks, Soviet Jewish citizens denied permission to emigrate. Among the refuseniks they met were the parents of Beth David's then cantor, Lilia Kazansky. The congregation campaigned for the release of David and Clara, who gained their freedom in 1987. Later, when Beth David moved to Gladwyne, Henry helped to form the Interfaith Hospitality of the Main Line.
He has written several books, including Why Judaism?, What's Special About Judaism? and a biography of his grandfather, Kindler of Souls: Rabbi Henry Cohen of Texas. His most recent work is Charley Braunstein and Jewish Tradition, which teaches Jewish themes using characters that are a take-off of the Charles Schultz's Charlie Brown cartoons.
Rabbi Cohen was married for more than fifty years to the late Edna Cohen, and they are survived by daughters, Shelley and Lisa, and granddaughter, Tali.
READ ABOUT RABBI HENRY COHEN IN THE NEWS. TURN TO PAGE 5.
Lilia Kazansky, Cantor Emerita, zt"l
Lilia Kazansky graced Beth David Congregation with her beautiful voice starting on 1984 and she retired after 31 years in 2015. Sadly, we lost Cantor Kazansky in March of 2017.
In 1978, Lilia emigrated from the former Soviet Union with her husband, Boris, and daughter, Miriam. In the Former Soviet Union, she received a masters degree in voice and concert piano, from the Moscow State Conservatory. In 1985 she graduated with a degree from the Hebrew Union College in New York. And, in 2010, she earned an honorary doctorate from HUC.
From her childhood, Lilia always had a special place in her heart for Jewish culture and music. As she says, "It came through the blood" from her Grandfather, who was a professional Cantor in the Ukraine. Lilia, together with her husband Boris, have performed classical repertoire, as well as folk and sacred music, in different cities of the U.S, Europe, and Russia.
Cantor Lilia is survived by husband Cantor Boris, daughters Rebecca and Miriam, and grandsons Jordan and Noah.